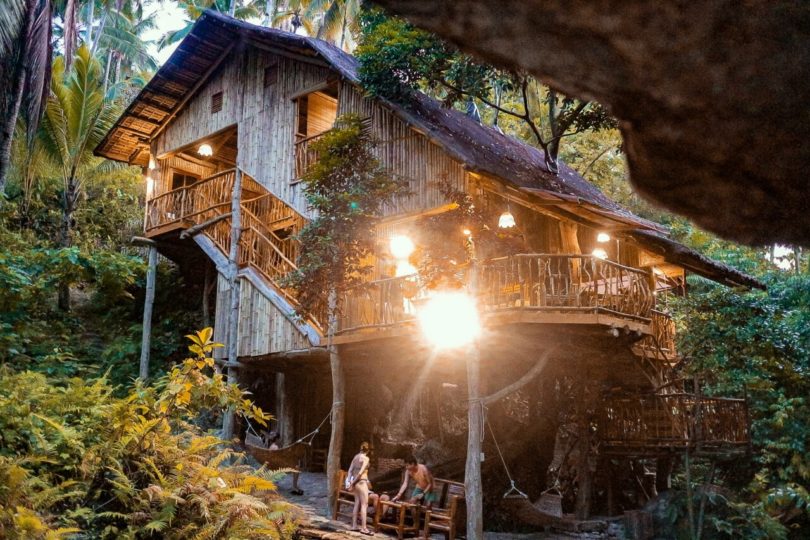 Love. Nothing else is clear throughout Balamban, Cebu's Treehouse de Valentine. But what kind of love? I'm not really sure. Love is clearly expressed from every nook and cranny of the romantic place from the amazing interior design, picturesque view, up to the breathtaking architecture.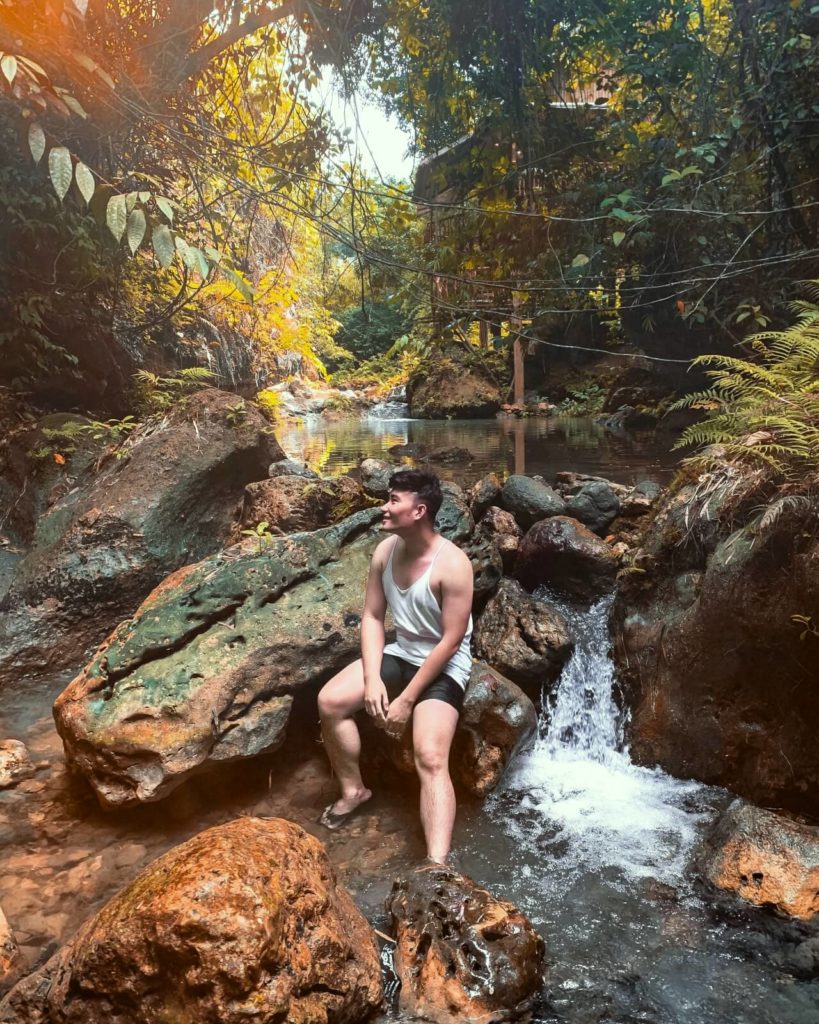 One word: Awe-inspiring. Awe-inspired is exactly what we felt upon entering the place. We have travelled approximately two hours from the rowdy and bustling Cebu City proper to the mountainous and foggy region of Cebu province which the Municipality Balamban. The foggy road is very romantic. Even traversing the Cebu Transcentral Highway, we could clearly feel that this trip is destined to be a great one.
We arrived quite opportune at around 2PM at the Municipality of Balamban with a weather that's just perfect. We met up with the very helpful caretaker to lead us to the Treehouse itself at Hingatmonan. The thickly tree-surrounded roads were narrow but were to be expected since road developments are in full steam. We passed by two elementary schools —one from Baranggay Vito and the other is from Hingatmonan itself. The caretaker's car entered a big wooden gate and then and there we realized we have arrived. We were welcomed by a couple with warm smiles.
THE TREEHOUSE DE VALENTINE
Valentine was the surname of the lovely owners—Mr. & Mrs. Valentine. You could also deduce that they named the treehouse after themselves. Valentine is such a lovely name, don't you think? Mrs. Jenny Valentine was a local but as a couple, they were initially based in Singapore and finally settled back to Scotland. They were in the country for the treehouse blessing which concluded just moments before we arrived.
The entire 8-hectare property, as mentioned by Mr. Valentine, was love at first sight. Love at first sight indeed since upon seeing a tree along a body of water cascading downhill through such lush trees, creeping vines, and it teaming with wildlife, made him decide to make a majestic treehouse then and there with that very tree as a foundation.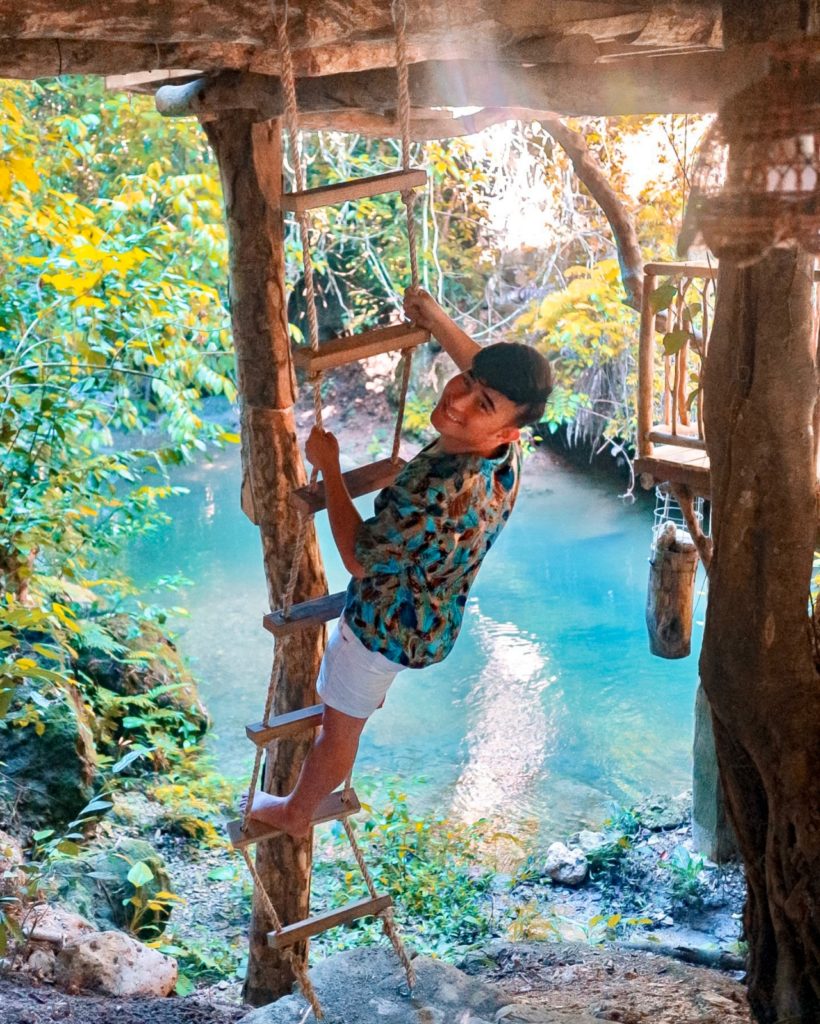 And he did. He and his wife made a lovely healing cocoon for humans who want to coincide with Mother Nature herself. The manmade infrastructure just fits around the ecosystem. It was just organic. Tarzan imagery is very strong indeed or even George of the Jungle.
Environmental love. The love of nature. I think perhaps that's the kind of love that not just this treehouse is made with but also the kind of love everyone would feel here. For every turn, we could clearly appreciate the landscape. The very thought of being just closer to Mother Earth is very comforting away from all the pollution and toxicity.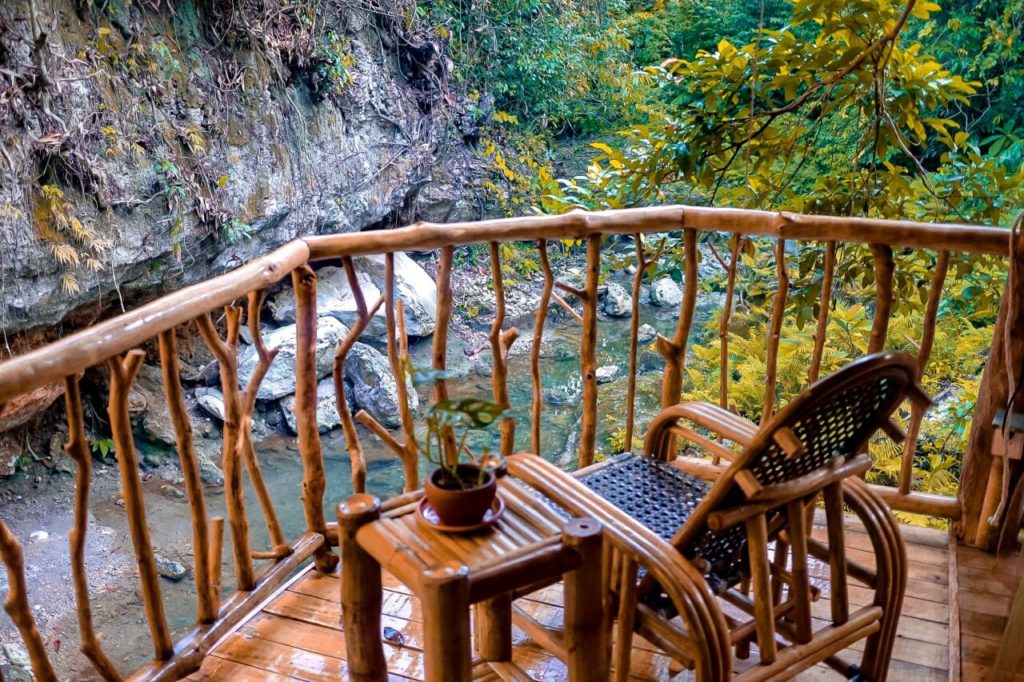 But our stay isn't barbaric or uncomfortable, to say the least. The whole treehouse windows and openings were equipped with mosquito nets and contraptions that attended to our every need.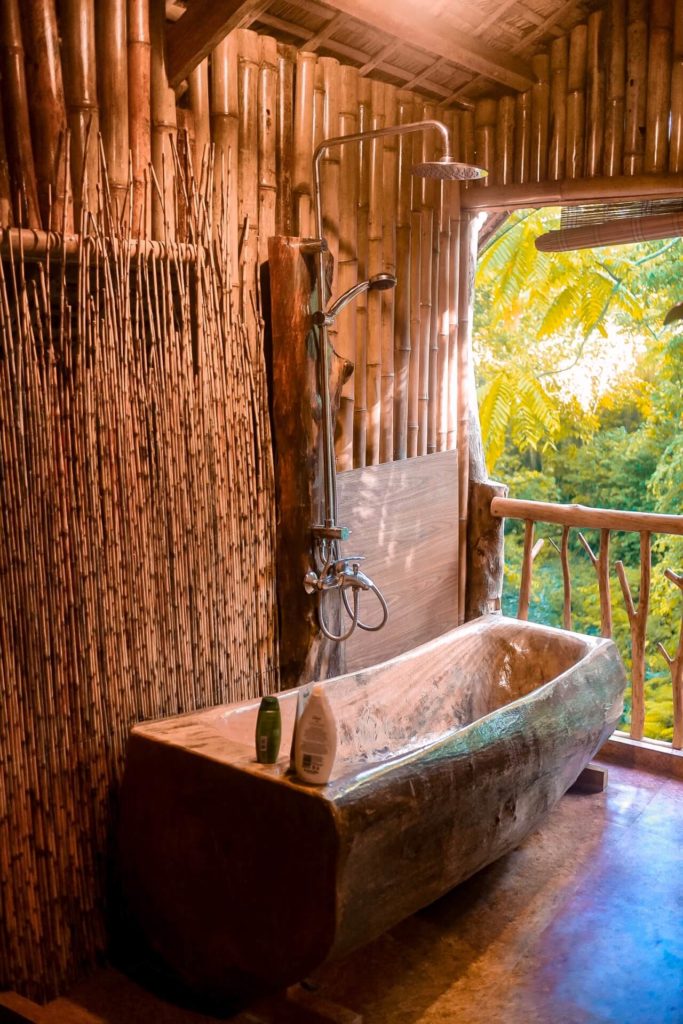 There were appliances like microwave, Dyson fans, hair dryer, induction stoves, insect repellant, mosquito killer lamp, WiFi connection, surveillance devices for safety, and a large flat screen television. We slept very cozily in our 3 bedrooms with stylized bed canopies each. Not to mention the wooden hot bathtub with a scenic view upstairs and a Flintstones reminiscent bathroom shower below.
The treehouse could really be a pleasant escape from the city life and along with it life's stress.. You could have your own escapism here. Whether just chilling and staring to the wilderness, swimming around the creek below or exploring the flora and fauna beyond, I bet nobody would even feel a hint of boredom at the Treehouse de Valentine. Everyone would love the creation and the environment more here.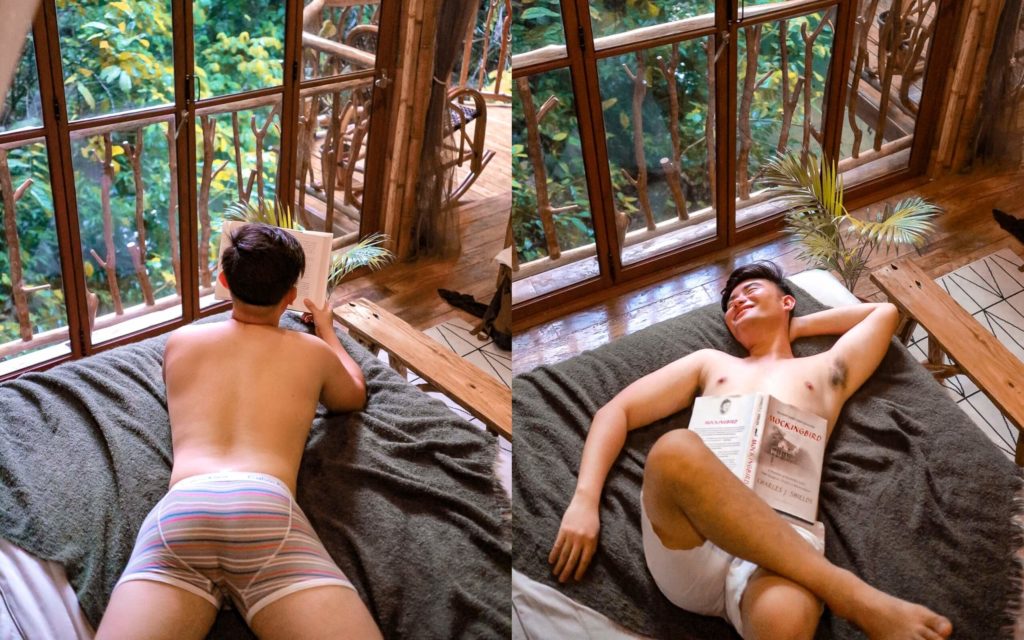 Style De Treehouse
Styling outfits for the treehouse visit wasn't rocket science. You want a comfortable yet stylish garb to assist you with whatever activity you are having. Of course, you always have to match your clothes with whatever weather Balamban would throw at you. Thank God the rain happened after we have already departed the treehouse.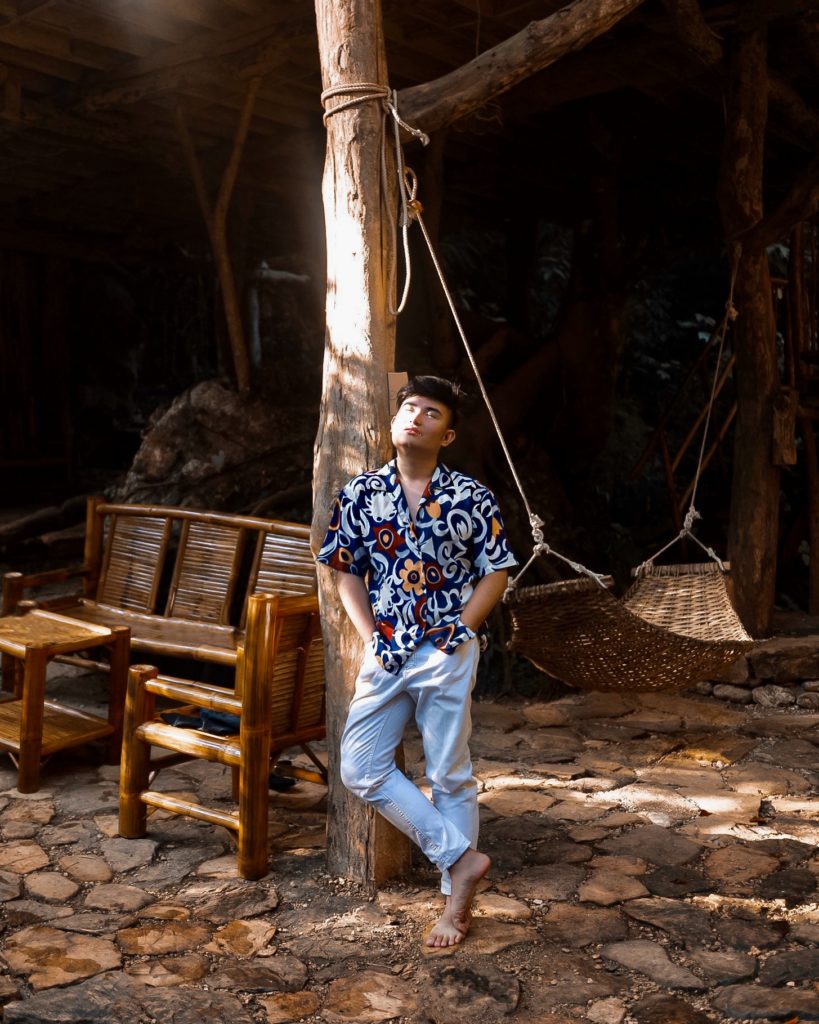 My go-to outfit for a sunny morning to afternoon while traveling is a regular button-down shirt with an eye-catching design matched with a basic denim pair of pants or slacks. This exactly what I did for my first outfit. The blue, white and yellow colors of the top perfectly complimented the basic white denim pair of jeans. The outfit and the sea of browns from the treehouse background had a nice contrast. It made me pop out of the photo. The outfit had a no fuss vibe, fit for unwinding and so is the photo taken.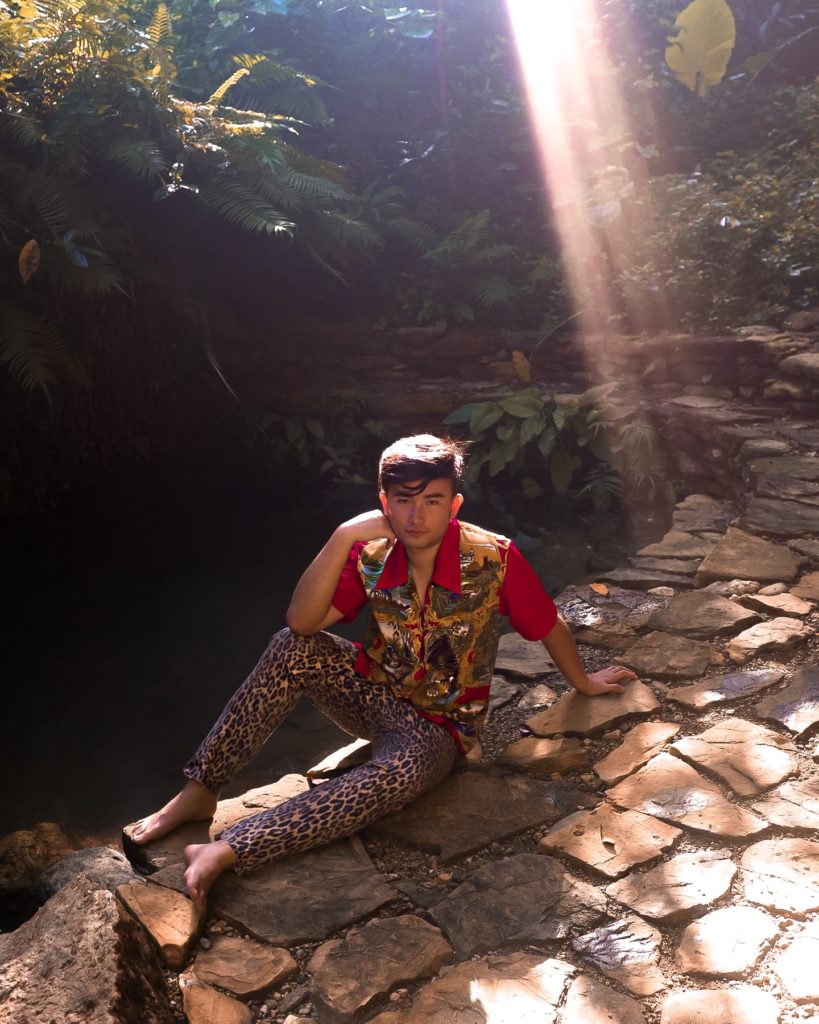 For my second outfit, I tried to quench my Vogue or any other fashion editorial magazine fantasy. I pretty much brought and wore the loudest ensemble of clothing. I paired a red Chinese inspired printed button-down shirt with a Cheetah printed stretch pair of leggings. I wanted to elevate the photo and challenge my creativity by wearing an outfit that you wouldn't normally associate with a treehouse. The prints of my top and my trousers are complimentary, in my opinion. Print on print is a maximalist aesthetic. Just like for the first getup, I did not choose to wear footwear to have that effortless look. Indeed I am happy with the results.
FINAL THOUGHTS
This trip is definitely a highlight for me this year. The photos online and even my photos cannot give it justice. The expectation really does far exceed reality there and I cannot stress it enough for you guys to try to experience what I experienced there. I would suggest to book ahead because you may have a lot of competition and make sure the weather would be perfect upon your visit.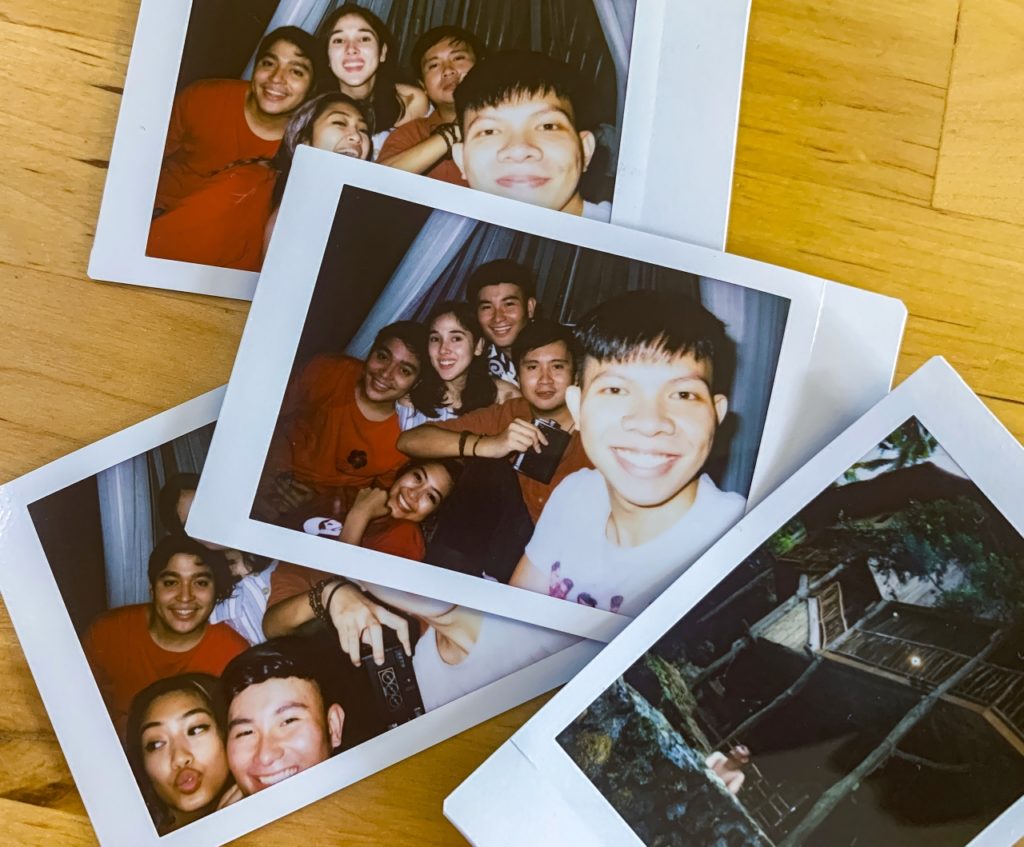 Special thanks to Mikheyla Fox and Mr. & Mrs. Valentine for making the trip happen. Until the next time! See you.
---
Facts & Details:
Price: ₱10,000 per night as of October 22, 2019
NOTE: Maximum of 8 guests. Walk-ins are NOT allowed. Book a reservation using the link provided below.
👉 https://www.airbnb.com/rooms/39113140?source_impression_id=p3_1571708614_acrOUoH3Pdkajs3y 👈
---
How to get there?
Exact Address: Brgy. Hingatmonan, Balamban (approximately 2-3 hours away from the city)
Via Van: Take a V-hire from the Ayala Center Cebu Terminal to Balamban via CebuTranscentral highway route. One way fare is P120 per person. Inform the driver to drop you off at Brgy. Hingatmonan.
Via Private Care: Use and navigate using the Waze application or Google Maps and search for "Hingatmonan, Balamban, Cebu". Parking space is available.
---
House Rules:
Check-in: After 3PM, Checkout: 11AM
Surveillance or recording devices on property
No shoes in the house
Pets are allowed
Parties and events are allowed
Smoking is allowed
Must climb stairs
---
Complete Facility & Amenities List:
5 beds
3 baths
3 bedrooms:

Bedroom 1: 1 king bed,
2 single beds
Bedroom 2: 1 king bed
Bedroom 3: 1 double bed

Laptop friendly workspace
A table or desk with space for a laptop and a chair that's comfortable to work in
Iron
Laptop friendly workspace
A table or desk with space for a laptop and a chair that's comfortable to work in
Wifi
Towels, bed sheets, soap, and toilet paperContinuous access in the listing
Facilities
Free parking on premises
Hot tub
Dining Area
Breakfast is provided
Kitchen & space where guests can cook their own meals
Private entrance
Separate street or building entrance
Hair dryer
Hangers
Shampoo
Fire extinguisher
First aid kit